As the party inside crested at midnight, a trio of men in T-shirts arrived at the front door of downtown Minneapolis' latest club opening. To their dismay, their admission was declined by the doormen. Justin Rothman, sweaty in his suit, stood guard as the club's sentinel of security.
"Collared shirts, guys," he said with a huff.
The three men, who were actually well-kept even in tees, wouldn't get to see the inside of the Exchange Nightclub this night — but a lot of other people did. The club opened to a full house last Saturday in the lower level of the historic Lumber Exchange building. The club, on the busy corner of 5th and Hennepin, has upscale ambitions that seem to fly in the face of a scene dominated by casual-first party bars like Cowboy Jack's and Sneaky Pete's.
More surprising is the location: a windowless, subterranean space that has housed a revolving door of nightclubs over the years, most recently Club New York.
One year in the making, the Exchange's interior has been stripped back to its skeletal frame, revealing original marble floors and chunky limestone walls that hark back to its Mill City roots.
An ideal setting, the owners think, for a club aimed at a more affluent, better-dressed and more-seasoned clubber. (Read: older.) Except for a few exceptions, dance clubs in the Twin Cities have typically been playgrounds for the twenty-something set.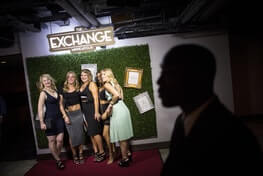 AARON LAVINSKY, STAR TRIBUNE
Security guard Jerry Bryant watched over the Exchange Nightclub as a group of patrons had their photo taken.
As the area's glut of high-priced condos and apartments continues to grow, the timing seems right for a glitzy hot spot like the Exchange.
Downtown nightlife seems to be growing up here in other ways, too. Inside the Exchange's retro-meets-modern walls, bartenders serve a menu of non-GMO, organic and cold-pressed juices that are mixed into drinks like the brandy-based, $14 Lovely Exchange.
What's smoother than a healthy hangover?
"Rather than pre-Prohibition-style cocktails or crazy molecular gastronomy, we wanted to try a simpler cocktail anthology," said general manager Ben Quam. A veteran in the business, he added that bars didn't always "have access to fresh-squeezed mango."
A large portion of the club is covered by a bottle service area, where VIPs were spending hundreds of dollars at their booths on opening night and then hitting the nearby dance floor that features a state-of-the-art sound system.
Depending on your speed, the basement-level space is also home to a separate room with its own name — the relaxed Alibi Lounge. The dual experience is analogous to wading between a "pool" and "hot tub," Quam said. Revelers can take a dip in the Alibi, where communal seating areas and smoldering candles project a mellow mood, or splash around in the larger and louder Exchange.
Alibi's culinary vision (more on that later) is aided by the résumé of co-partner Jacob Toledo, who also co-owns Borough, Monello and Coup d'État. The club's other partner is nightclub veteran Deepak Nath, whose assets include the Pourhouse, located just upstairs on the first floor of the Lumber Exchange.
The owners say the concept's layout and vibe was inspired by the swanky Underground nightclub in Chicago and the now-closed cocktail emporium Milk & Honey in New York.
The Exchange's name is obvious. But what's up with Alibi's? The name was inspired by notorious gangster Kid Cann, who used the building's barbershop as an alibi when he was charged with the 1935 murder of Minneapolis newspaper editor Walter Liggett.
All but confetti
On Saturday night, guests in Alibi were greeted by bartenders whose energy outpaced theirs at times. One bartender fist-pumped while serving beverages. Another, who wore a handlebar mustache and ear gauges, exclaimed "Where's the energy?"
A seafood menu served between 4 and 10 p.m. includes oysters and stone crab claws as well as pork belly sliders and stuffed mushrooms, with prices ranging from $8 for small plates to $72 for a massive seafood platter.
Not for eating: a glowing tank of tiny jellyfish, which added a tinge of weird to the lounge and a talking point among customers.
The more adrenaline-seeking crowd filled every inch of the Exchange, where go-go dancers in wigs like cotton candy swayed in flashy lingerie. The room pulsed with remixes to anything from Awolnation's rip-roaring "Sail" to Kelis' busty "Milkshake."
In one of the club's 17 reserved areas, a group of friends was toasting the 24th birthday of Mik Kaminski — their comfort attended to by a server in a strappy black dress.
"It's nice to be at a classy, upscale place," said his sister, Kylie Kaminski, 22, sitting among high school friends who have since graduated from separate colleges. Kaminski couldn't be reached for an interview, because he was tearing up the dance floor.
AARON LAVINSKY, STAR TRIBUNE
Jeff Fillbrandt danced with go-go dancers on a Saturday night at the new Exchange Nightclub in the Lumber Exchange building in downtown Minneapolis.
In a more shadowy corner of the club, a woman celebrated her 44th birthday with her friend. The duo usually opts for a quieter bar, but she wanted to come dancing in the former home of the Rogue, where she worked in the '90s. (After the Rogue's run, the space was also home to Level, Foundation and Element in the 2000s.) "This is not necessarily my scene, but I enjoy watching," she said.
Not far away, an ongoing photo shoot was being staged by the nightclub's back wall. The faux-greenery backdrop was adorned with ornate frames and a gilded sign for "The Exchange: Minneapolis." Willing subjects were captured by a blast of fluorescence on their own red carpet all night long. Striking a pose were lines of hip-clutching women, lip-locking couples and beverage-toting dudes. Evoking the instancy of Polaroid and photo booths, revelers could pocket a printout — or scroll through the album that would grace Facebook by morning.
A bubbly affair
Across the club and beside the grooving bodies on the dance floor, a couple necked like teenagers.
"We have my mom babysitting the kids tonight," said Tony Peltier, 39, who was with his wife, Kristi, 39, after dinner at Black Sheep Pizza. "Before I got married and had kids, I was a big part of the club scene."
The party wasn't as much Kristi's taste, though Tony was thankful for the "elevated dress code" and absence of "riffraff," he said.
Much of the clientele on Saturday fit the club's coveted mid-30s demographic. A group of people in the lounge repeatedly professed how the Exchange was filling a void in the late-night scene. "I want a place to party but where I'm not feeling out of place," said one woman, 33, who works as a creative at Target, and didn't want to give her name. "The Pourhouse isn't where I belong anymore. This speaks to me and where I'm at in my life."
Her friends poured from a glow-in-the-dark, 2-foot-high bottle of Champagne priced at $3,000. A server had just returned to the booth with more glass flutes, as requested
By NATALIE DAHER, Star Tribune